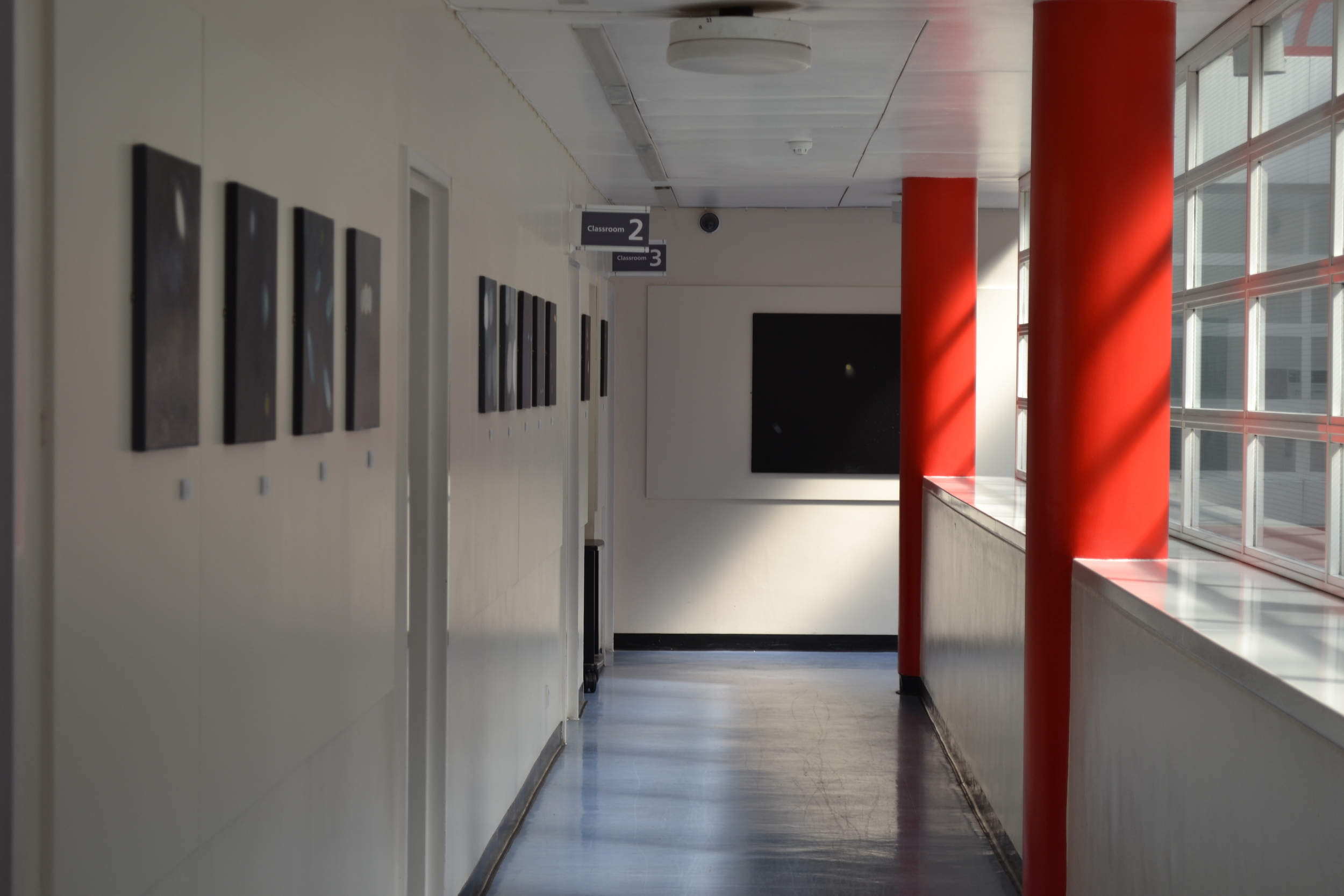 Statement 2018
Patrick's practice explores ideas prompted by either an image, a book, an artwork or a significant personal experience where he sees multiple layers of meaning and depth to investigate through his artworks. He works in series and in a range of media from paint, screen print, ink, graphite and charcoal.
His current body of work explores themes of emotional architecture, memory and domestic monoliths and the poetics of space. Focusing on the formal elements of edges/shapes/tone his visual language has developed from a visit to the Jewish Museum in Berlin in 2016 where the Holocaust Tower made a deep impression on his practice – a dank, claustrophobic and light - deprived space. Acute wall planes shooting up to a slither of light and freedom. A charcoal tower. This prompted a year of working in charcoals, developing his austere and sombre compositions in response to significant research imagery with a nod to his interest in Suprematist and Modernist 2D graphic concerns, with particular reference to the original corner hang of Malevich's iconic Black Square painting with his recent mixed media installation piece 'Floor to Ceiling' in the H_A_R_D_P_A_I_N_T_N_G exhibition. He also relishes the challenge of transforming and applying the traditionally dirty medium of charcoal into precisely rendered abstract compositions.
Currently combining charcoal and acrylic paint, his mixed media paintings here have evolved from compositions developed from various corners and spatial transitions within the domestic environs of his father's house, part of a continued investigation into the perception of two-dimensional space and three-dimensional form, hovering somewhere between the two.
Awards:
Arts Council, 2003, 2019
Public Art
Brighton Blow Commission Winner 2012 - 2013 with Portrait of the Artist - the
face behind the façade. Phoenix Arts Association, Brighton.
Curating
2020 H_A_R_D_P_A_I_N_T_I_N_G x2 Phoenix Gallery, Brighton
2018 H_A_R_D_P_A_I_N_T_I_N_G, Phoenix Gallery, Brighton 2014 20 Painters, Phoenix Gallery, Brighton 2014 A3, Phoenix Gallery, Brighton, 2013 32 Paintings, Phoenix Gallery, Brighton
Solo Exhibitions
2016 Retreating Light, Phoenix Gallery, Brighton
2015 'Wavelengths', The Education Centre, Homerton University Hospital, London.
2010 'Excavations', Phoenix Gallery, Brighton
2010 'You Make Me Gay', The Oriental Hotel, Brighton
Selected Group Exhibitions
2019 138th ANNUAL EXHIBITION,Museum of Ulster, Belfast
2019 Reunion, Inspire Gallery, Azille, France
2019 Brighton Festival Exhibition, Window Gallery, Phoenix, Brighton
2019 Arc angle plane form, Gallery 57, Arundel
2018 Hartggerston, The Barge House, London 2018 Phoenix Studios Members Exhibition, Phoenix Gallery, Brighton 2018 H_A_R_D_P_A_I_N_T_I_N_G, Phoenix Gallery, Brighton, 2017 Sussex Open, Towner Gallery, Eastbourne 2017 Via Arts Prize, Embassy of Brazil, London 2017 Present Tense, Phoenix Gallery, Brighton 2017 Glasgow Contemporary Art Fair, with Frickleton Fine Art 2016 Discerning Eye, Mall Galleries, London 2016 East Sussex Open, Towner Gallery, Eastbourne
2016 Festival Show, Naked Eye Gallery, Hove 2016 Contemporary Retrospective, Gallery 40, Brighton
2015 Framing Fictions, Harts Lane Gallery, New Cross, London
2014 Four, Hop Gallery, Lewes
2013 Together, Occupy My Time Gallery, Deptford, London
2013 Mid Summer Night's Dream, Alex McArthur Antiques, Brighton
2013 32 Paintings, Phoenix Gallery, Brighton
2012 Revelations, Group 5 @ Naked Eye Gallery, Hove
2012 New Works, Naked Eye Gallery, Hove
2011 Brave New Worlds: Utopias/Dystopias, Riverside Gallery, Richmond
2011 North and South, Naked Eye Gallery, Hove
2009 Gallery 100, Brighton
2008 Blenheim Crescent Gallery, London
2008 Affordable Art Fair, London
2007 Chase Exhibition, RCA, London
2007 Hicks Gallery, London
2005 Hackney Empire, London
2005 Hicks Gallery, London
2004 Thebes Gallery. Lewes
2004 Hilton Mayfair Hotel, London
2003 City College Gallery, Brighton
2003 Royal Society of Artists, London
2003 Fresh Art, Islington, London
2003 Gallery 100, Brighton
2002 Brighton College Gallery, Brighton
2001 American Express House, Brighton